Home
/
Blog
/
2 Secrets To Clean Like A Pro!
While cleaning is our job, and we do it well, we have no shame in sharing some of our best tips with you for the times when you have to do it yourself. You might wonder how a professional cleaning crew can do such a good job with your house when you might not even know where to start. For the days when your Glossy Clean help just can't be found, be sure to take these tried and true suggestions into consideration. Trust us - we're the experts!
Dress for success. You might notice that when the Glossy Clean experts come to your house to do the job right, they're dressed for it. It can be hard to really get down on your knees and scrub at the floors if you're in inappropriate gear. Consider investing in a real cleaning outfit - something comfortable and not too tight or loose. We recommend medical scrubs! Also look into purchasing extras like knee-pads, rubber gloves, and comfortable shoes. The pros dress to get the job done and so should you!
Get the right tools for the job. There might seem to be a new cleaning gadget up on the market every other week, but the pros don't deviate from what works and neither should you. Don't go for the supermarket cheap "deals"- most of these will fall apart after a few rounds of deep cleaning. If you invest in quality cleaning equipment - a broom, a mop, a duster - you'll find that they get the job done well and last forever. Also pay attention to the kinds of chemicals that you use to clean your house; some are more harmful than others. Remember that the products you use to clean your house also go into the air you breathe!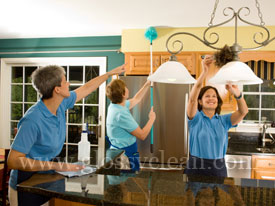 With these tips in mind, you'll be out and ready to clean in no time. Just don't forget about us when you need that extra hand!
08/26/2010 13:47:11
Tags:
cleaning tips