Home
/
Blog
/
Spring House Cleaning Tips
It's that time of year again - time to get your house ready for the warm, sunny months ahead with a little spring cleaning. However, as is the case with many things, spring house cleaning goes a lot more smoothly when you have a really good plan in place right from the get-go. Keep the following expert tips in mind while you go about yours. Your home will be magazine perfect in no time flat!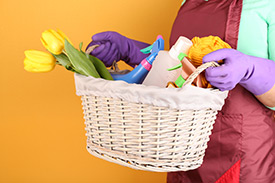 Cut Down on Clutter
Start by eliminating clutter on a systematic, room-to-room basis first. Put objects and tools away in their designated places if they have them. You may also find it helpful to pick up some additional storage containers before you begin to help you easily relocate specific items. Designate one container for items that will be going into the garage, one for items you plan on donating, and one for items you're planning on taking to the dump altogether.
Make Your Windows Sparkle
Everyone knows that spring means it's time to catch up on your window washing. However, beautiful, sunny days can make it harder than it has to be. Make things easier on yourself by choosing a cloudy, cool day to do yours. Otherwise, the sun might dry your cleaning solution too quickly, leaving unsightly streaks and spots.
Don't forget your window treatments either! Most drapes and curtains won't have gotten dirty enough to necessitate a full laundering. Try giving them a quick cleaning with the upholstery attachment on your vacuum instead to remove dust. Looking to freshen up sheer curtains? Try tossing them in the dryer with a softener sheet on a low setting to do the same job.
Give Carpets a Little TLC
If your carpets are under warranty, then you'll want to make sure yours doesn't require you to leave your deep cleaning to the professionals. If it doesn't, then definitely save a buck or two by renting a deep cleaner and doing it yourself. Make sure you use stain-specific, dedicated cleaners to treat especially tough spots before you get started. Your carpet will be springtime fresh in no time flat!
Have a Partner Help You Clean Problem Spots
Any thorough spring cleaning plan is naturally going to involve moving heavy items like furniture or large appliances to clean underneath to the greatest extent possible. Don't attempt to do this yourself or you could risk injury. Have a partner or friend help you move the items. Even when it comes to tough obstacles like your fridge and stove, you should still be able to move them far enough back that you can clean behind with a vacuum attachment. Don't forget to roll up your area rugs and vacuum underneath while you're at it!
Freshen Your Furniture
Knowing how to properly care for your furniture over time is an important part of spring house cleaning, as well as extending the life of your items for as long as possible. Keep leather supple and beautiful by restoring it with good quality upholstery conditioners. Suede can be rejuvenated with a special suede brush and suede/nubuck cleaner. Fabric upholstery should be vacuumed and spot cleaned while all wooden furniture is given a thorough once-over with natural furniture cleaner and polish.
Perform a Safety Check
Of course, safety is important all year round. However, spring house cleaning is the perfect opportunity to perform a few essential checks. As you make your way through the rooms of your house, take the opportunity to replace batteries in carbon monoxide and smoke detectors. If you don't already have fire extinguishers in your home, it's time to buy some and place them in your kitchen, garage, or any other rooms where they might eventually come in handy. You're sure to be glad you did!
04/18/2015 20:27:58
Tags:
seasonal house cleaning