Home
/
Blog
/
Happy Fourth of July
In this Fourth of July, Americans are commemorating the adaption of Independence Declaration. In this America's national birthday, people will start to celebrate the most important time in their history. This is one of the most significant holidays for many people and it also means that they will be preparing their house for a celebration with their family and loved ones.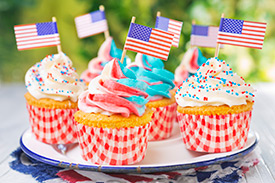 If you want to have a clean and comfortable environment in your house while you celebrate the Independence Day with your family, friends and loved ones, contact Glossy Clean now and enjoy a perfect holiday party. Glossy Clean will do everything that you want to keep your house at its best state when your relatives come to your home. Are you always worried about all the dust around the corner of your house and you are afraid that you cannot clean it on time? Then, there is no need for you to worry because Glossy Clean will do the job for you. Don't worry about wasting so much time in cleaning your house. All you need to do is prepare all the foods before the party starts. Glossy Clean will do all the cleaning stuffs for you. You can choose from a wide array of different cleaning services that they are offering. They have been doing business for years, giving the assurance that they are knowledgeable about the appropriate services that your house needs.
Independence Day is here, and you have to make your house as homey as possible for all your guests and your relatives that will join you for this very special day. Make your house look fresh and clean with the services offered by Glossy Clean. You don't actually have to worry if you or your guests have dermatological or respiratory health problems because they are using certified Green Seal products only. Unlike any other house cleaning companies, they are not using harmful chemicals that can trigger your respiratory problems like asthma. They are using products that are environmental-friendly to make your house fresh, allergy-free and more convenient.
If you want to make your holiday more special and worth remembering, get the services provided by Glossy Clean. We are offering house cleaning services that are highly affordable. They are equipped with high quality materials and products to make your house healthy and clean. Do not spend your time during this important holiday in cleaning all the mess and dirt in your house. You can host a party in your apartment, condo or in your house. You can also spend a perfect day with your family outside while the reliable and professional house cleaners are cleaning all the mess in your home. We do their cleaning professionally, and they are also offering a hundred percent clientele satisfaction. All the skilled cleaning crews will provide a better workmanship than you have ever expected.
07/02/2013 11:27:02
Tags: